How Can LED Display Benefit The Home Business?
LED display is one of the newest and most innovative advertising methods. People quickly turn to outdoor LEDs for their advertisement needs because they use significantly less energy than traditional billboards. Also, the screens are large and bright, making them more difficult for people to miss.
In this blog, we will be looking at what LED display is, how you can use them for advertising, and how they could benefit the home business.
What is LED display Outdoor advertising?
LED advertising is a type of outdoor marketing that uses electronic displays to show static images, videos, and animation. These advertisements are displayed on high-definition screens, making them visible from far away. This digital advertising method is very versatile and suitable for placement almost anywhere.
Advantages of outdoor LED display advertisement
The outdoor LED display screen offers a lot of advantages for advertising. Of course, any business wants people to pay attention to their advertisements, so they notice and understand the material. As a result, advertisements seem more appealing to potential consumers. But that isn't all; several more benefits come from using outdoor LED displays for ads.
1. Eye-Catching Advertising
As I already alluded to, using bright LED lights with color and motion, outdoor LED displays are attention-grabbing. When you add video or animation, they command even greater attention. In short, the possibilities of LED display advertising are limited only by the advertiser's creativity.
2. OOH Advertising Solution
According to the article, "LED Screen Advertising Benefits – 10 Reasons Why LED Technology Helps You Expand Your Business," by Daniel Reynolds (https://dynamo-led-displays.co.uk/led-advertising-screen-advantages/), "Using LED screen advertising as your Out Of Home (OOH) advertising solution means that your digital content can be published with high-quality outdoor LED screens and relayed to a far broader public audience. Depending on the footfall, traffic speed, and the frequency and duration of your message, you can get your ads in front of a broad cross-section of a local community, potentially generating new interest, widening your audience, and increasing inquiries."
3. Lower Cost Advertising
You might be shocked to learn that outdoor LED advertising displays are cost-effective. As a result, many clients want to invest in an outdoor LED display. When compared to traditional advertising boards, they are far more cost-efficient.
Unlike typical print ads, LED ads can easily be edited or updated without the additional costs of reprinting. The upfront costs can add up to considerable financial savings by eliminating the time and cost of editing and reprinting print ads.
4. Real-time updates and edits
The cost savings of editing and updating LED advertisements over printed ones was just mentioned. Now I'd like to highlight the ability to real-time adjust and improve your targeting using LED advertising, which allows you to hone your targeting precision on a continuing basis. You may push your marketing efforts from anywhere in the world thanks to wireless technology and cloud-based computing, allowing you to manage them from anywhere. Various sophisticated software platforms enable you to make any desired changes immediately by working remotely.
5. Effective advertising
With outdoor LED displays, you control which ads to play and when. Furthermore, there's no limit to how many ads you can display or run at one time–you could even alternate between multiple ads.
6. Synchronous Digital Campaigns
In real-time, DOOH provides for the opportunity to establish completely synchronous digital campaigns published and streamed across websites, mobile devices, applications, television, radio, and Digital Out of Home (DOOH) media. The cutting-edge technology and servers may be programed to deliver coordinated and highly targeted advertising with a level of control and accuracy previously unimagined.
How can LED display advertising benefit the home business?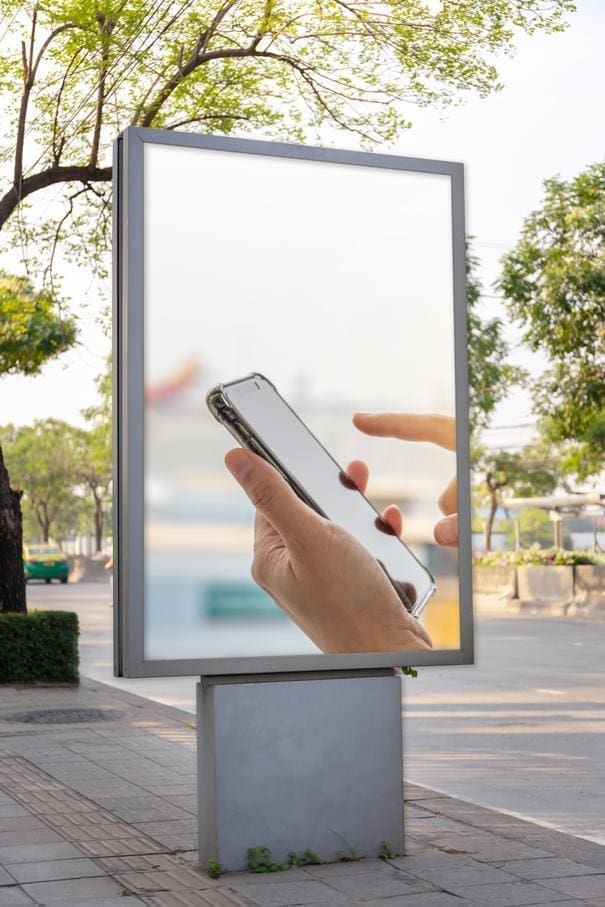 This article is titled "LED display advertising – what is it, and how can it benefit the home business." As I write, that is always my concern – to benefit the home business. So can LED display ads help the home business? The short answer is, "It all depends."
But before getting into what it might depend on, I want to highlight the vast array of new possibilities it offers. Having read this far, you know about some of its advantages and opportunities. It has all the capabilities and options of ads on the internet or television.
You can now move your advertising outdoors using the same design tools you have already been using. And your ads are displayed wherever you choose. They don't have to be in front of a computer or mobile device or at home watching their television. They might be driving across town or to another city. They might be at the mall or an athletic event.
Each setting catches the person in a different frame of mind and receptivity to your message. And, whatever the location, it segments your audience based on interest.
So with these thoughts in mind, allow your mind to run free as you consider the possibilities.
It all depends
Now to mention a couple of factors that can determine whether or not the home business might benefit from LED display ads.
Advertising Budget – Your business's advertising budget will be a significant factor. I am not suggesting that LED display advertising is more expensive than other forms. But it could require more outlay to get the coverage you might get with other forms of advertising. Since LED display ads are stationary, multiple locations will be necessary to broaden your scope. On the other hand, in specific settings, it may grab attention better than the internet or social media ads which compete with many other diversions.
Geographical reach – Another significant factor that could impact the benefit of LED display advertising for your home business is the geographical reach of your product or service. In some cases, that reach will be local, whereas, in others, it will be state-wide, nationwide, or even global. If your business has a broad reach, you should not automatically eliminate the use of LED displays. Should you want to infuse a heightened awareness about your product or service in a specific market, LED displays might fit the bill.
Adcritter
As you think about using this form of advertisement in your home business, consider the operation of a company such as Adcritter. Adcritter (adcritter.com) bills itself as "The Small Business Ad Platform," targeting TV, Internet, and Billboards.
Adcritter offers subscriptions on its platform with a monthly fee of $149. You design and schedule your advertising yourself using templates they provide. Templates vary depending on the media you plan to use, whether TV, internet, or billboards.
When you have designed your ad campaign, you are ready to arrange with Adcritter the media, coverage, and desired schedule. You decide the ad budget right for your business, and Adcritter uses its buying power to get you the best possible prices.
Through this or similar ad agencies, the home business can coordinate its advertisements across social media, internet search ads, TV, and LED display billboards. And you have eliminated using an expensive ad agency in the process.
Conclusion
In conclusion, LED display advertising can be a great way to get your home business noticed. However, it is crucial to consider your advertising budget and geographical reach when deciding if this form of advertising is suitable for you. Additionally, an agency like Adcritter can help you coordinate your ad campaign across multiple platforms and save money.
Please share your thoughts or experiences concerning LED display advertising in the comments below. If you would be interested in receiving bi-weekly email notices of our blogs for home and small businesses, please sign up using the form below.